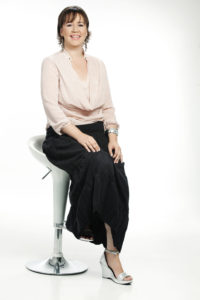 Ivana Nikolic made the first steps in journalism when she was only 20 years old. Working often in very challenging circumstances in her homeland Serbia, delivered high-quality content and successful cooperation with both local and international media professionals.
She has rich experience in the field of broadcast, digital and written journalism. As an author, editor and host, she ran the popular awarded documentary show "Moj Beograd" (My Belgrade) at Television Studio B (Belgrade, Serbia) for over 12 years and filmed over 300 episodes with remarkable artists, scientists, sportsmen, journalists and other renowned people mostly from Serbia, but also from Russia, USA, Guinea-Bissau, Germany, France, etc.
Ivana was also an author and host of the miniseries "Moj Beograd i moj Melburn" (My Belgrade and My Melbourne) filmed in Belgrade, Melbourne and Sydney which was created with sponsorship from the Embassy of Australia in Serbia.
She was engaged as a live shows host, news reporter and journalist at Studio B as well, so she has rich experience in almost all fields of broadcast journalism. In 2015 Ivana was a guest lecturer at the Department for Journalism at the Faculty of Political Sciences (University of Belgrade).
Writing is also her passion and she writes since a very early age. She was also engaged as a journalist at few magazines. After leaving Television Studio B in 2016, Ivana has worked as a digital media and video journalist. She founded Australiana Serba Internet Magazine, which is dedicated to Australian and Serbian ties and topics. Soon after it was founded, Australiana Serba started partnerships with several companies and organizations from Serbia, Australia and Switzerland. Ivana also created and produced 21 episodes of the fun and yet profound show "Na sunčanoj strani" (On the Sunny Side) which was broadcasted on several local TV networks. She was engaged as the journalist and mentor on the pilot documentary film "Wonder Woman of Wine" by Australian filmmaker Isabella Sophy Savic and the popular Chinese documentary series "On the Road" by Zhang Xinyu and Liang Hong. Among her latest works, there are articles for the British magazine The Focus, a story for the Chinese radio China Plus, etc. 
Currently, Ivana is engaged in one international documentary project (not yet for the public). Otherwise, focusing on writing and digital media.